Ensemble, nous pouvons faire :
Balades Nature, Randonnées, Vélo, Sport Santé, Raquettes, Marche Nordique, Courses d'Orientation
Come and discover:
Nature Walks, Hiking, Mountain bikink, Snowshoes hiking, Orienteering, Nordic walking
Exerçant depuis plus de 15 ans, titulaire du Diplôme d'Etat d'Alpinisme "Accompagnateur en Moyenne Montagne" ainsi que de la qualification VTT.
Venez découvrir le Vercors, le Diois, la Drôme, l'Ardèche, ou d'autres massifs,
à votre rythme, entre amis, en famille,
à pied, en raquettes, ou en vélo,
pour partager ensemble des paysages, des ambiances, la richesse exceptionnelle de nos régions.
J'ai un large spectre de clients qui va du groupe d'amis, en passant par les familles, les particuliers, les écoles, les centres de vacances, jusqu'aux collectivité territoriales.
Ci-dessous vous trouverez des idées de sorties, contactez moi si vous ne trouvez pas la votre.
A qualified guide with more than 15 years of experience in Nature and Hiking trails based in Valence.
Discover the Vercors mountains, the Drôme and the North Ardèche.
at your own pace, with friends, with family,
walking, snowshoeing, mountain biking,
to share all landscapes, environments, the exceptional richness of our mountains.
I have a broad spectrum of customers ranging from group of friends, including families, individuals, schools, holiday centers, to local authorities.
Below you will find ideas for outings, do not hesitate to contact me if you cannot find yours.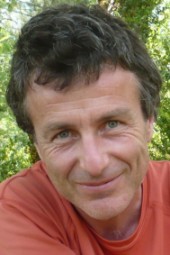 Balades Nature
Nature Walks
Si le thème choisit le permet, le but est que ces balades soient accessibles à tous, famille, enfants, personne à mobilité réduite, de les réaliser à proximité, avec des durées allant de 1 h 30 à la journée. Voici quelques exemples :
Orchidées, Sabot de Vénus, Petites Bêtes, Arbres ...
Brâme du Cerf, Bouquetins, Vautours, Affut ...
If the theme allows it, the goal is for these walks to be accessible to everyone, family, children, people with reduced mobility, to do them nearby, with durations ranging from 1h30 to the day. Here are some examples :
Orchids, Hoof of Venus, Little Beasts, Trees...
Stag beating, Ibex, Vultures, Lockout...
Randonnées à la journée ou demi-journée
Half-day or full-day Hikes
Le Vercors est riche en randonnées à réaliser, pour le plaisir de marcher ou de découvrir des sites insolites, à pied ou en raquettes, en voici un petit apperçu :
Paysages
Plateaux d'Ambel, de Font d'Urle, Pré de Cinq Sous, Plaine de la Queyrie, Crête du Brézème ...
Cascades, Sites Insolites
Cascades de la Druise, de Tuf, Canyon des Gueulards, Les rives de la Gervanne, La Lyonne ...
Sommets
Pic de Saint-Michel, Serre de Montué, Serre Plumé, Roc de Toulaud, But Saint-Genix ...
Patrimoine historique et naturel
Chapelles Saint-Médard, Saint-Christophe, Tour de Crussol, Carrière Romaine des Hauts Plateaux ...
The Vercors is rich in hikes to be done, just for the pleasure of walking or to discover unusual sites. on foot or on snowshoes, here is a quick overview:
Landscapes
Ambel and Font d'Urle trays, Meadow of five cents, Plain of Queyrie, Crest of Brézème...
Waterfalls, Unusual Sites
Druise and Tuff waterfalls, Gueulards canyon, Gervanne and Lyonne rivers...
Summits
Peak of Saint-Michel, Montué and Plumé summits, rock of Toulaud, Saint-Genix summit...
Historical and natural heritage
Site of French Resistance during World War II, Chapels, Crussol circuit, Roman Quarry of the Hauts Plateaux...
Sorties Vélo, VTC, VTT
Cycling, MTB outings
Le Vélo est un fabuleux moyen de locomotion qui procure des sensations de liberté et d'aventure. De part notre posture et notre vitesse qui différe de la marche, il permet de poser un regard différent sur un territoire.
Dans la région ou en France, à la journée ou en itinérances, il est possible de réaliser :
ViaRhôna, voie verte de l'Isère, Dolce Via, la Drôme, Chapelle Sainte-Béatrix, VTT dans le Vercors ...
Canal du Midi, Velodyssée, les canaux de Bourgogne, Nantes - Brest, la Loire à Vélo ...
Savoir Rouler à Vélo, Remise en selle, Exercices de Maniabilité ...
Cycling is a fabulous means of locomotion which provides sensations of freedom and adventure. Due to our posture and our speed which differs from walking, it allows us to take a different look at a territory.
In the region or in France, by the day or by itineraries, it is possible to achieve:
ViaRhôna, Isère green way, Dolce Via, Drôme valley, Mountain biking in the Vercors...
Midi or Burgundy canals, Velodyssée, Nantes - Brest, the Loire by bike...
Grands itinéraires à la journée ou sur plusieurs jours
Large itineraries for the day or over several days
Les Calanques de Marseille à Cassis.
Randonnées entre mer et montagnes, alternant points hauts et bord de mer. Ambiance magique garantie.
Le Grand Veymont - Point culminant du Vercors à 2 431 m.
Randonnée de plus de 1 000 m de dénivelé, souvent occupé par des Bouquetins, permettant d'avoir une belle vue sur les Alpes, le massif des Ecrins et de traverser la réserve des Hauts-Plateaux.
Le Glandasse
Sommet mythique du Diois à 2 041 m. Habitat des Bouquetins, Chamois, Edelweiss, Sabot de Venus.
Les Trois Becs
Massif entre Vercors et Drôme provençale, ressemblant à la proue d'un bateau, synclinal perché remarquable contenant la forêt de Saou (ENS) avec son Auberge des Dauphins, réplique du Petit Trianon. Habitat des Chamois, Aigles Royaux et des Tulipes Sauvages.
La traversée du Vercors
Sur 2 à 4 jours, permet de parcourir la réserve des Hauts Plateaux, la plus grande forêt de Pin à crochet des Alpes, réputée pour son ambiance sauvage, térritoire du Loup et des Vautours ...
The Calanques from Marseille to Cassis.
Hiking between sea and mountains, alternating high points and seaside. Magical atmosphere guaranteed.
The Grand Veymont - Peak of the Vercors at 7.680 feet.
Hike of more than 3,000 feet of vertical drop, often occupied by Ibex, allowing to have a beautiful view of the Alps, the Ecrins massif and to cross the Hauts-Plateaux reserve.
The Glandasse
Mythical summit of Diois at 6,696 feet. Habitat of Ibex, Chamois, Edelweiss, Hoof of Venus.
The Three Spouts
Massif between Vercors and Drôme Provençale, resembling the prow of a boat, remarkable perched syncline containing the Saou forest (sensitive natural area) with its Auberge des Dauphins, a replica of the Petit Trianon. Habitat of Chamois, Royal Eagles and Wild Tulips.
The crossing of the Vercors
Over 2 to 4 days, allows you to explore the Hauts Plateaux reserve, the largest hook pine forest in the Alps, renowned for its wild atmosphere, land of the wolf and vultures...
Pour vous, votre famille, vos collègues ou amis, je peux organiser :
Initiation à la Course d'Orientation, à la Marche Nordique
Programme de Sport Santé, de Marche Dynamique
Bivouac, Lecture de Paysage
Utiliser un DVA, Lire une carte
Si vous cherchez un guide pour vous balader en toute sérénité, n'hésitez pas à me contacter.
For you, your family, your colleagues or friends, I can organize:
Initiation to Orienteering Course, Nordic Walking
Healthy Sport Program, Fast Walking
Bivouac, Landscape Reading
Use an avalanche casualty detector, read a map
If you are looking for a guide to walk around with confidence, do not hesitate to contact me.
Informations diverses
Various information
Mes prestations :
Sorties à la journée, demi-journée, pour 2 heures, soirée, nocturne, week-end, à la semaine.
Pour toute demande particulière, contactez-moi.
Mes diplômes :
Diplôme d'Etat d'Alpinisme : Accompagnateur en Moyenne Montagne
Qualification Complémentaire VTT
Animateur Fédéral de Course d'Orientation
Formation aux Premiers Secours
Numero de siret : 449 207 323 00022
My services:
Day trips, half-day, for 2 hours, evening, night, weekend, week.
For any special requests, contact me.

My qualifications:
French certificate of guide in mountain
Further qualification MTB
Federal animator orienteering
Certificate of training in first aid
Siret number: 449 207 323 00022